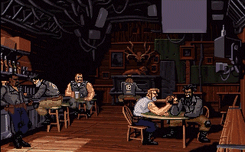 Polecats are Ben Throttle's gang that consists of 6 men. Father Torque was former leader of the Polecats, before he pass the torch of leader to Ben. Darrel is second in command of the Polecats.Adrian Ripburger tricked them into accompanying them to the Shareholders' Meeting in Corville after knocking Ben unconscious. In the process of getting to Corville, the gang was framed for murdering Malcolm Corley just outside of the Rest Stop in Melonweed.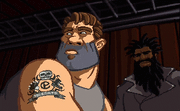 Father Torque (Former member and leader)
Ben Throttle (Leader)
Darrel (Second in command)
Moustached guy
Black bearded guy with spiked hair
Unshaved guy
Guy trying to play the piano
Background
Edit
Polecat is a designation of several different animals, of the Carnivora order and most in the weasel family. It can also refer to a number of other concepts.
Ad blocker interference detected!
Wikia is a free-to-use site that makes money from advertising. We have a modified experience for viewers using ad blockers

Wikia is not accessible if you've made further modifications. Remove the custom ad blocker rule(s) and the page will load as expected.