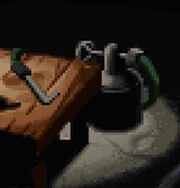 Welding torch is one of the parts necessary to repair Ben's Chopper after the crash. Originally, Maureen owned the torch for her own uses, but Todd Newlan stole the torch to make art out of parts found in his junkyard. Ben finds the torch lying in Todd's basement.
Ad blocker interference detected!
Wikia is a free-to-use site that makes money from advertising. We have a modified experience for viewers using ad blockers

Wikia is not accessible if you've made further modifications. Remove the custom ad blocker rule(s) and the page will load as expected.